Souper Bowl Sunday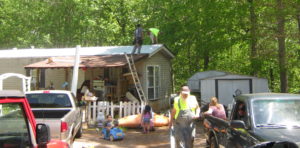 Soups, cornbread, desserts, and drinks are on the menu for Souper Bowl Sunday. This fundraiser, the only one for the year on behalf of Side by Side in Service, will be held Sunday, January 27th, 2019 from 11 am to 2 pm at Dahlonega Baptist Church. Your donation of $5.00 per person or $10.00 per family will be used to purchase supplies to meet the needs of community residents when we gather in April for our countywide workday.
Zaxby's of Dahlonega

A portion of your order will go to Side by Side in Service from 5 to 8 pm on the following dates:
Tuesday, February 6, 2018
Tuesday, March 13, 2018
Tuesday, April 17, 2018
Texas Roadhouse
Eat for a Reason! Bring your church bulletin to Texas Roadhouse (Exit 14, Cumming) any Sunday in March, 2018, 11 am – 4 pm. Ten per cent (10%) of your meal cost will be donated to Side by Side. Thank you!