American Legion Bazaar (Feb. 15, 2020)
We cordially invite you to our bazaar on Saturday, February 15th, 2020. We will be having a rummage sale, silent auction, live music, baked goods available for sale and bid! All from 9:00am – 3:00pm and dinner served from 5:00pm – 7:00pm for $10/person (takeout available if preferred).
All proceeds benefit Side by Side in service.
Advance dinner tickets available – email Paul Wingo (eaglepw@gmail.com) and donations and sponsor contributions are being accepted for the POst 239 Bazaar silent auction and rummage sale.
Event held at:
American Legion Heyward Fields
132 Legion Road
Dahlonega, GA
Contact:
(706) 864-2566 with any questions.
---
Souper Bowl Sunday (Jan. 26, 2020)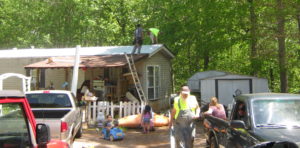 Soups, cornbread, desserts, and drinks are on the menu for Souper Bowl Sunday. This fundraiser, the only one for the year on behalf of Side by Side in Service, will be held Sunday, January 26th, 2020 from 11 am to 2 pm at Dahlonega Baptist Church. Your donation of $5.00 per person or $10.00 per family will be used to purchase supplies to meet the needs of community residents when we gather in April for our countywide workday.